Advancement in technology is getting enhanced day by day, it's spreading its wing in each sector like industrial, agriculture, and healthcare, E-commerce, Media and Entertainment etc. Technologies are innovated as per demand of situations and circumstances. Hence, healthcare also works with new devices like IoMT, Blockchain, 3D- Printing, Tissue Engineering, Nutrients Genomics, Telemedicine, other applications and devices which are still upgrading and making its way in healthcare industry.

The havoc of COVID-19 took millions of lives and, peoples were upset, distressed, and angry over the poor health infrastructure in India. During the time of this pandemic, it is the healthcare sector which saved billions of precious lives using required technology.
Healthcare systems were limited in last few decades but because of artificial intelligence and machine learning applications; hospitals, doctors and medical teams treat patient more efficiently and rapidly. Healthcare technology are designed to improve vaccines and cure of diseases, surgeries, medical education, hospital administration, and manage and secure of patients' data.
The scope of technologies in healthcare sector is wide-ranging, some of the most common applications and devices are explained below:
Internet of Medical Things (IoMT)
IoMT is a combination of medical devices, applications, and software which is innovated by using advanced technology like AI. IoMT are wearable devices can be used anywhere and anytime; it monitors heart rates, hand hygiene, depression, moods and diseases according to the creation of device and uses. The devices sometimes connected with computer of medical staff, a movement detector, tracking fitness, and it collects all data and sends signals in emergency cases.
Virtual Reality only used for entertainment purpose in gaming, media, and marketing, but when it comes to medical application, it works in different way. It needs more practice and practitioner for testing again and again for the safe use, because it generates an experience where imaginations will feel real, so it is important to upgrade time to time. 
VR is widely used in medical education, diagnostics, psychological or mentally ill-treatment, surgeries, pain management, fitness to create artificial and simulated environment. It is a little similar to augmented reality (AR), which we will see below.
Robots are the perfect example of technology in healthcare, there are circumstances where human cannot work 24 hours a day, they need time to rejuvenate and relax, but sometimes patients need 24/7 attention and care. Minor Surgeries of ankle or knee can be done by the robots.

This seems a little scary and insecure, but it does work very well. Robots can remember anything, this system helps to arrange medicines, and drugs provide and supply medical tools for operations and surgeries.
There are different types of robots in healthcare industry:
The da Vinci
Da Vinci is a surgical robot to enables surgeons and specialist to perform complex surgeries. The surgical robot consists of 3D Camera, four robotics arms with surgical instruments attached to the computer. It has reduced the risk of infection, pain, and blood losses.
AKA Exoskeleton
It is an external exoskeleton (orthoses), robot which is attached to the body to help a paralyzed person walk again, to correct malformation, and to rehabilitation after a brain or spinal cord injury surgery.
Robotic Nurses
Robotic nurses are programmed for to manage medical supply, patient's movement and care, schedule appointment. Robotic nurses are also divided in sub categories like:
Robot Dinsow

Robot Paro

Robot Pepper
Companion Robots
They are made to reduced stress, depression and promote help and can become a lifetime companion for elder people who are weak and remain all time sick.
Recently Hanson Robotics which is Hong Kong based company is launched a new robot, which is also known as Sophia's sister "Grace". It is used in medical purpose for Covid-19 cases to interact with isolated Covid-19 patients.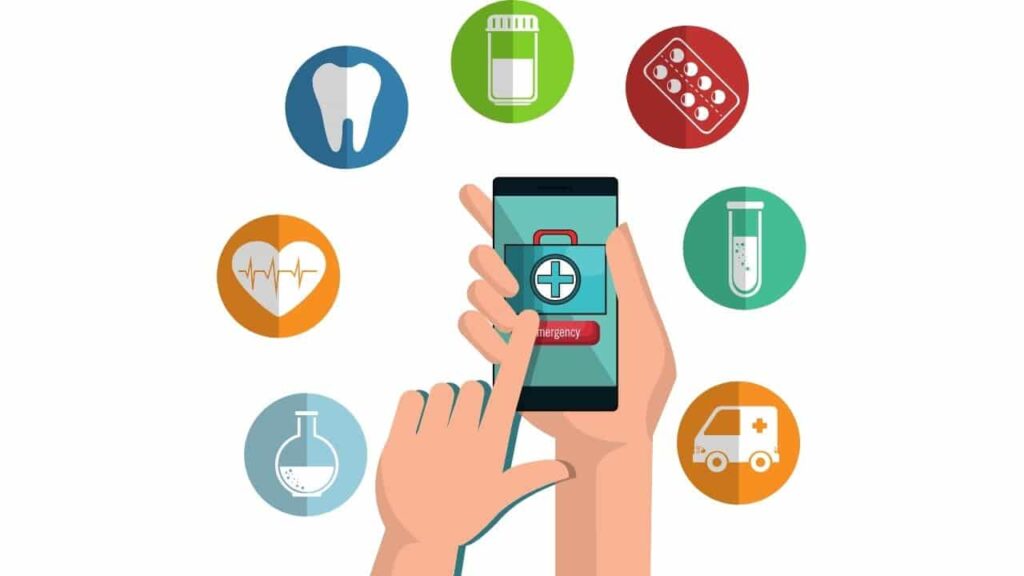 Chatbots is software which is created with Artificial Intelligence. It is a "Mini Hospital" in your mobile. It gives you instant feedback for your health by asking simple questions and analyzing patient history.

There are many types of chatbots as per your need like weight loss, sex education etc. It provides additional medical information, answers your medical queries. Examples like GYANT is a virtual assistant that inquire the patients to understand their symptoms and send the data to doctors who diagnose and prescribes the medicine in real time.
Drones are used in emergency cases where human reach isn't possible in short span to supply like injection, blood, first aid box. It aids elderly people most of the time because they cannot go everywhere with serious health issues. Drones only supply lightweight supplements, or it depends on creation of drones.
Blockchain is a system for storing and sharing information to secure privacy, data and ecosystem of the patients. It has many applications like Gurdtime, Patientory, Robomed etc. It also creates one system and prevents mistakes like mixture of data, miscommunication of old records.

Mobile health applications, remote monitoring, tracking diseases and genomic data are the other applications run with Blockchain, "A security guard of healthcare systems". Today the use of blockchain is limited in healthcare system but with time, it will grow.
AR is a combination of virtual and physical world. It is used to train nurses, doctors, and just graduated medical students. Health care students have to gain wide concepts of anatomy where AR is used to recreate the concept of anatomical structures virtually. How new drugs and medicine affecting body, surgeries are all displayed in air.
Mental health problem can be solved when virtual images are recreated and experienced using AR technology. Complex surgeries of heart, weight loss, urinary bladder, and brain ease the process and prevent various side effects.
CONCLUSION

Many of you think if robots are so capable, will robots replace with human jobs of nurses or doctors? I will say, No. Technology is really becoming advance in healthcare systems. It reduces many horrors, mistakes, medical errors and improves health, fitness, subconscious level and many more benefits. But we should keep in mind that robots, drones, applications with artificial intelligence will always remain machine, it can't be compared with human.
Medical chat-bots, application devices are filled with lots of information, but it's not as expert as doctors, because they are the one who controls the information. No one can ever replace doctor and nurses. Hence, don't be afraid of technology it will only help you make your work easy; you just need to do your job.